Podcast: Play in new window | Download (Duration: 21:09 — 29.5MB)
Subscribe: Google Podcasts | RSS | More
"Holding yourself accountable every single day, and striving to be better, a better player and a better person every single day."
"Sports teaches you a lot…Being humble can take you really far."
– Brianna Decker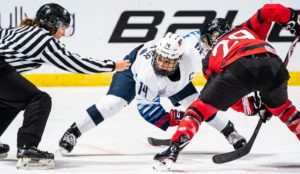 Brianna Decker is a member of the US Women's Hockey Team, coach for the U18 Women's Team, and creator of an endowment fund to help grow the game of hockey for girls in Wisconsin.
Brianna won a gold medal with the team at the 2018 Winter Olympics, but that is one accomplishment in a series of achievements on and off the ice.
We talk about her journey, the impact of her family, and her high school and college coaches that helped her along the way.
When speaking about playing for the US Women's team, she talks about family, competitiveness, teamwork, commitment, …. And she takes those characteristics off the ice through her work with her endowment fund and USA Hockey.
Brianna talks about what it was like to participate in the NHL All Star Game Skills competition, and to win the passing skills event.
She speaks about the impact of being a coach, and how she is able to mentor younger players, and grow the game for the future.
During this time, she is also working with CCM Hockey to help provide surgical masks for healthcare workers.
And we also talk about a unique place for an Outdoor Winter Classic game involving the US Women's team.
I think you will enjoy the insight from Brianna on hockey, sports, and helping others.
Please visit the USA Hockey Foundation page for further information on Brianna's endowment Fund.
Enjoy the episode
Visit us at Foundations of Sports for further information on what we do and our mission of providing positive sports stories and the lessons of character, hard work, and humility that develop a championship teams on and off the ice, field and court.
This episode is sponsored by us, The Foundations of Sports, and our new Podcast Teammate Program. Podcasting is a great way to connect, network, build relationships, and increase awareness about your team, organization or product. According to Edison Research, in 2020, over an estimated 155 million people listened to a podcast in the US.  Whether you are a sports team looking to reach more fans, an organization looking to bring more awareness to your mission, or you might be someone with unique knowledge or a special skill looking to network, podcasting is a tool that can help bring you, your team, and your career to the next level. Contact us for further information on how we can can launch and improve your podcast.
Instagram – Foundations of Sports
LinkedIn – Chris Horgan – Foundations of Sports