Podcast: Play in new window | Download (Duration: 33:12 — 30.9MB)
Subscribe: Google Podcasts | RSS | More
Daron Roberts joins us on The Foundations of Sports to discuss his journey from Harvard Law to the NFL, and the steps he took to follow his dream. He speaks about how working the Steve Spurrier Summer Football Camp with his good friend was the pivot point that motivated him to pursue his true calling of coaching.
He shares the stories from his book "Call an Audible", including the phone call from Coach Herman Edwards that provided the opportunity, and "Operation Houston" which details the behind the scenes account of Daron's 1st game as a NFL coach.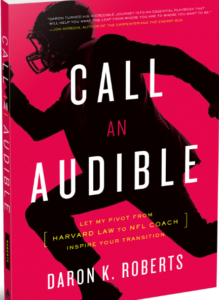 Daron is the founder of the Center for Sports Leadership and Innovation at the University of Texas. With his team, their curriculum teaches how sports can play a positive role in the lives of young people, and how they can be leaders on and off the field. Through their programs of C.L.E.A.T. (continuing leadership and ethical athletic training), Captains Academy, Fellowship programs, and financial literacy, the CSLi sets an example for others to learn and follow.
His podcast, Tribe Called Yes, brings his audience closer to the world's most notorious risk takers, trailblazers, and enemies of the status quo.
Daron founded the 4th and 1 Foundation, that provides football, test prep and life skills through his annual summer football camp. They provide a blueprint for all the characteristics necessary to be successful in life, and to be a great teammate and role model on and off the field.
Enjoy the episode
For information on Daron, his book, podcast, teachings, and foundation:
www.daronkroberts.com
Book – "Call and Audible"
Center for Sports Leadership and Innovation – University of Texas
4th and 1 Foundation – 4thand1.org
Visit us at Foundations of Sports for further information on our mission of providing positive sports stories and the people who make an impact on and off the field.